Friday 19-02 Uhr; Saturday 16-04 Uhr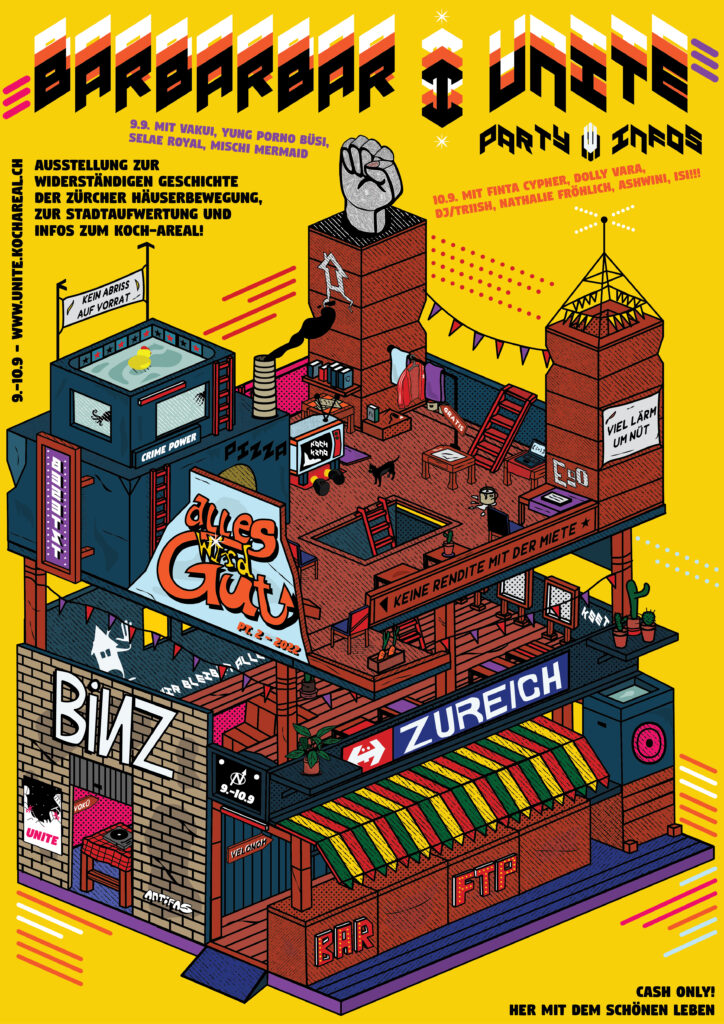 A bar. A stage for DJs. An exhibition space.
The legendary bar including glitter fist, long drinks and the nicest DJ lineup is back! At this year's UNITE Festival, we'll not only provide you with the best drinks, but also address the fight against gentrification. In Zurich, squatters have been fighting against capitalist urban development for a long time and have repeatedly created self-governing cultural and residential spaces over the decades. In order to show the history of precisely these struggles, we, as Barbarbar, have recreated elements of famous squats in Zurich and thus created not only an aesthetic but also a political backdrop, which is enlivened by music, bars and events. From Wohlgroth, Labitzke and Binz to the cooking area – we not only want to give an insight into the history of the struggle for cultural and living space in the city of Zurich, but also inform about current campaigns and show new perspectives for the future. There are contributions from the Zurich City Group, the cooking campaign and the K-Sett in our exhibition space. Together we oppose the revaluation and displacement that takes place within the framework of capitalist urban development.
---
Eine Bar. Eine Bühne für DJ's. Ein Ausstellungsspace.
Freitag 19-02 Uhr; Samstag 16-04 Uhr
Die legendäre Bar inklusive Glitzerfaust, Longdrinks und dem nicesten DJ-Lineup ist zurück! Am diesjährigen UNITE Festival verpflegen wir euch nicht nur mit den besten Drinks, sondern thematisieren auch den Kampf gegen die Gentrifizierung. In Zürich wehren sich Besetzer*innen schon lange gegen die kapitalistische Stadtentwicklung und haben über Jahrzehnte hinweg immer wieder selbstverwaltete Kultur- und Wohnräume geschaffen. Um die Geschichte genau dieser Kämpfe zu zeigen, haben wir als Barbarbar Elemente von berühmten besetzen Häusern in Zürich nachgebaut und damit nicht nur eine ästhetische, sondern auch eine politische Kulisse erschaffen, welche durch Musik, Barbetrieb und Veranstaltungen belebt wird. Von Wohlgroth, Labitzke und Binz bis zum Kochareal – wir wollen nicht nur einen Einblick in die Geschichte des Kampfes um Kultur- und Wohnraum in der Stadt Zürich geben, sondern auch über aktuelle Kampagnen informieren und neue Perspektiven für die Zukunft zeigen. Hierfür gibt es Beiträge der Stadtgruppe Zürich, der Kochkampagne und vom K-Sett in unserem Ausstellungsspace. Gemeinsam stellen wir uns gegen die Aufwertung und Verdrängung, welche im Rahmen der kapitalistischen Stadtentwicklung stattfindet.