Infos and mobilization for the JUSTICE FOR NZOY campaign with supporting acts:
NONGOMA / NEBIYAH / SIMBAS`AVE / AMUKA SASA
Saturday 20.00 – Main Stage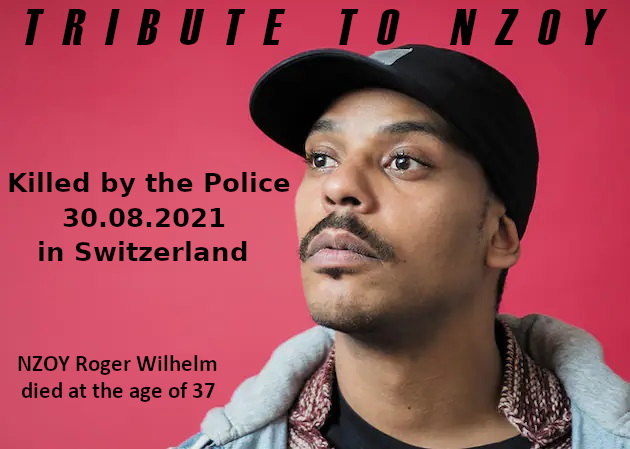 Am 30. August 2021 wurde am Bahnhof von Morges (VD) unser Bruder, Sohn, Cousin, unser geliebter Freund Nzoy durch drei Schüsse aus einer Polizeiwaffe aus dem Leben gerissen. Dieser Todesfall ist ein weiterer in einer ganzen Reihe von Morden aufgrund von menschenverachtender, rassistischer Polizeigewalt.
Dreimal schoss der Polizist auf ihn, den dritten Schuss gab er ab, als Nzoy taumelnd auf dem Perron zu Boden ging. Nach den Schüssen fesselten ihn die Polizisten mit Handschellen, leerten seine Taschen, liessen ihn liegen. Erste Hilfeleistung leistete ein zufällig vorbeilaufender Krankenpfleger.
Die Lügen der beteiligten Polizisten konnten nur aufgedeckt werden durch einen Passanten der die Hinrichtung filmte.
---
On August 30th, 2021 at the train station of Morges (VD) our brother, son, cousin, our dear friend Nzoy was killed by three shots from a police gun. This death is another in a string of murders committed by inhuman, racist police violence.
The police officer shot him three times, and he fired the third shot when Nzoy staggered to the ground on the platform. After the shots were fired, the police handcuffed him, emptied his pockets and left him lying there. First aid was provided by a nurse who happened to be passing by. The lies of the police officers involved could only be uncovered by a passer-by filming the execution.