Infos and mobilization for the JUSTICE FOR NZOY campaign with supporting acts:
NONGOMA / NEBIYAH / SIMBAS`AVE / AMUKA SASA
Saturday 20.00 – Main Stage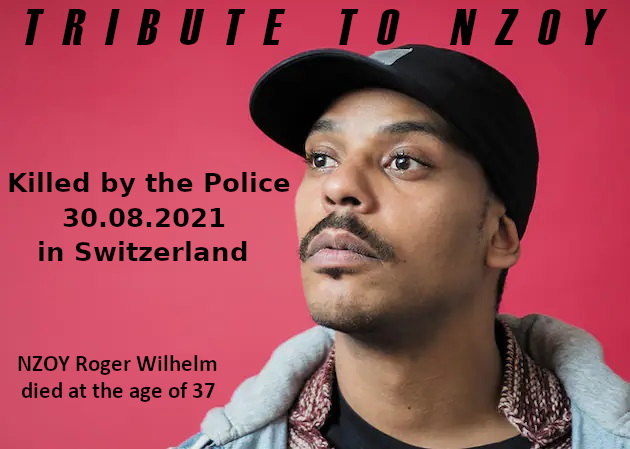 On August 30, 2021, a police officer shot dead Nzoy Roger Wilhelm, a black man from Zurich, in Morges. His relatives are still fighting for a legal investigation of the case. The lawsuit against the police officer is very slow. Meanwhile, he remains on duty and continues to carry a gun. As if that weren't enough, the accusers are also harassed by the public prosecutor's office. For example, Nzoy's siblings first had to prove that they were «on good terms» with him in order to be allowed to file a lawsuit at all. The cantonal court of Vaud admitted the siblings as plaintiffs at the end of 2021, after they had been dismissed as plaintiffs twice before. They only had access to the files more than three months after his death.
The bitter reality of our justice system is that prosecutors keep deliberately protracting cases in the hopes that prosecutors will tire, the victim will be forgotten, momentum will level off and, most importantly, financial resources will run out. The prosecution has used this tactic in other cases, such as the case of Hervé Bondembe Mandundu. Mandundu was shot dead by a police officer on November 6, 2016.
The murderer was questioned with kid gloves at the first hearing with the prosecutor. The extension of the lawsuit for failure to provide assistance was dismissed, despite videos circulating showing police left Nzoy on the ground for over 4 minutes without helping him. Prosecutors released fewer videos of evidence than media coverage.
Court opinions are particularly expensive in such processes. These are amounts between 5,000 and 10,000 francs. The public prosecutor's office can order expert opinions and then bears the costs themselves. If the opposing party wants to prepare expert opinions, the public prosecutor decides whether the expert opinions will be paid for or whether the plaintiffs will have to pay for them themselves.
The expert opinions in the Justice4Nzoy process must be handled solely by the accusers. That's why they need financial support!
The financing and organization of the Justice4Nzoy campaign also costs money. With the campaign, relatives and friends are trying to create more publicity for the case and for the everyday occurrence of racist police violence in Switzerland. Racism affects us all! Affected and not directly affected by racism should lead the fight against racism together. Only through a broad joint mobilization can we demand justice. We demand a fair legal processing of the case, justice for Nzoy and his relatives and the end of racist police violence and its institutional cover-up!
Nzoy- Rest In Power
---
Am 30. August 2021 erschoss in Morges ein Polizist den schwarzen Zürcher Nzoy Roger Wilhelm. Seine Angehörigen kämpfen bis heute für eine juristische Aufarbeitung des Falls. Der Prozess gegen den Polizisten läuft nur sehr schleppend. Währenddessen ist er weiterhin im Dienst und trägt weiterhin eine Waffe. Als wäre das nicht genug, werden die Ankläger:innen von der Staatsanwaltschaft auch noch schikaniert. Dies zum Beispiel, indem Nzoys Geschwister zuerst beweisen mussten, mit ihm «in guten Verhältnissen» gestanden zu haben, um überhaupt Klage einreichen zu dürfen. Das Kantonsgericht Waadt liess die Geschwister Ende 2021 als Kläger zu, nachdem sie zuvor zweimal als Kläger:innen abgewiesen worden sind. Über drei Monate nach seinem Tod hatten sie erst Akteneinsicht.
Die bittere Realität unseres Justizsystems ist, dass die Staatsanwaltschaft Fälle immer wieder bewusst in die Länge zieht, in der Hoffnung, dass Ankläger:innen ermüden, das Opfer in Vergessenheit gerät, das Momentum abflacht und vor allem auch, dass die finanziellen Mittel ausgehen. Diese Taktik wandte die Staatsanwaltschaft schon in anderen Fällen an, wie z.B. im Fall von Hervé Bondembe Mandundu. Mandundu wurde am 6. November 2016 von einem Polizisten erschossen.
Der Mörder wurde bei der ersten Anhörung beim Staatsanwalt mit Samthandschuhen vernommen. Die Erweiterungsklage wegen unterlassener Hilfeleistung abgewiesen, obwohl Videos im Umlauf sind, die beweisen, dass die Polizei Nzoy über 4 Minuten am Boden liegen gelassen hat, ohne ihm zu helfen. Die Staatsanwaltschaft hat weniger Beweisvideos als von der Medienberichterstattung veröffentlicht.
Gerichtsgutachten sind in solchen Prozessen besonders kostspielig. Dabei handelt es sich um Beträge zwischen 5'000 und 10'000 Franken. Die Staatsanwaltschaft kann Gutachten veranlassen und trägt dann auch selbst die Kosten. Wenn die Gegenseite Gutachten erstellen will, entscheidet der Staatsanwalt ob die Gutachten bezahlt werden oder ob sie die Kläger:innen selbst tragen müssen.
Die Gutachten im Prozess Justice4Nzoy müssen allein von den Anklagenden gestemmt werden. Deswegen sind sie auf finanzielle Unterstützung angewiesen!
Auch die Finanzierung und Organisation der Kampagne Justice4Nzoy kostet. Mit der Kampagne versuchen Angehörige und Freunde, mehr Öffentlichkeit für den Fall und für die Alltäglichkeit der rassistischen Polizeigewalt in der Schweiz zu schaffen. Rassismus geht uns alle etwas an! Betroffene wie auch nicht direkt von Rassismus betroffene Menschen sollen den Kampf gegen Rassismus gemeinsam führen. Nur durch eine breite gemeinsame Mobilisierung können wir Gerechtigkeit einfordern. Wir fordern eine faire juristische Aufarbeitung des Falls, Gerechtigkeit für Nzoy und seine Angehörigen und das Ende von rassistischer Polizeigewalt und deren institutioneller Vertuschung!
Nzoy – Rest In Power
---